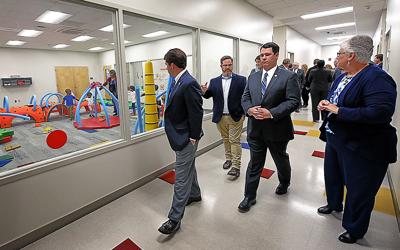 State legislators and pre-kindergarten advocates visited the Coleman Center for Early Learning and Family Enrichment on Troy-Dothan's campus Tuesday to tour the site and discuss the future of early childhood education.
The Coleman Center is a first-of-its-kind program serving as a three-way intersection for high-quality learning for children, education opportunity for Troy University students studying early education and human services, and research.
While lawmakers, government, and advocate organization officials witnessed the facility and the day-to-day operations of the classrooms, they discussed the progress that has been made in early education in Alabama and a pressing need to expand accessibility to quality child care for younger children.
According to the Alabama Workforce Council, the state needs to add as many as a half-million new high-skilled employees by 2025 to build the competitive workforce required to fill industry's labor needs and compete for new businesses.
"We're working right now to expand slots and quality in childcare," Gail Piggott, executive director of the Alabama Partnership for Children, told lawmakers. "We cannot get to the fully employed workforce that we need if we don't fix child care."
Piggott pointed out that parents, who are at the lowest end of the earnings potential ever, are asked to pay 80-90% percent of the cost of care until their child turns 4 or 5, at which point the state pays for all of it.
"Greater investment has got to happen," she said. "We also have to support these teachers."
Another setback to providing quality care, Piggott said, is that backing good programs like "Read Right From the Start" and investing in professional development is wasted when employees leave a minimum-wage child care position to work at McDonald's, where wages are higher.
Jeana Ross, secretary of the Alabama Department of Early Childhood Education and a cabinet member for Gov. Kay Ivey, said it's time that the state evaluates child care for its youngest.
"We know that it doesn't start or end with 4-year-olds, but that was a good place for us," Ross said. "So we can take that model that we created that we know works, that's highly successful and now we can go scale it back. Let's make sure that our children birth to (age) 3 have that high-quality program, because if it's not high-quality, it could be doing more harm than good."
While addressing lawmakers, Ross said that poor-quality child care is a serious problem the state needs to take to heart.
"If we don't promote that burst of development that happens from birth to (age) 3, we forever miss the train … but the early years, if we continue to ignore them, it will be at our peril and the good things we want at the other end of the spectrum are not likely to happen," Piggott added.
The Alabama School Readiness Alliance hosted the event to thank lawmakers and advocates for pushing for increased funding for Alabama's top-rated First Class Pre-K program, which resulted in nearly 200 additional classrooms statewide. Two are at the Coleman Center.
Allison Muhlendorf, executive director of ASRA, said the Coleman Center's capability was a "shining example" to show what's possible in early child care.
"They're doing state-of-the-art things, training the next generation of teachers, so that we can inspire change and we can study and learn from what y'all are doing here," Muhlendorf said.
Jeff Coleman, whose family's $1 million donation made the center possible, said he believes early education is a substantial component of workforce development.
"We've got to get those half a million workers in the state of Alabama," Coleman said. "That's truly what it's all about."
Muhlendorf said it was important to gather at the Coleman Center because of its unique functionality for early learning, workforce development, and research ability and it being a place that uses funding from many different sources including federal and state levels and private tuition.
"Our state is poised to increase services and funding for child care for working families for children at birth to 5 years old," Muhlendorf said. "There's a long way to go, but the Coleman Center is certainly a start."